Bundle of 2) VivaColor Waterproof GPD 12w Color Changing Landscape Lights Bluetooth App Control, 96 Watts Total, Extra Long Cord, Built-in Timer, Programs, Music Sync, Mesh Capable(Two 4 Light Sets)
Bundle of 2) VivaColor Waterproof GPD 12w Color Changing Landscape Lights Bluetooth App Control, 96 Watts Total, Extra Long Cord, Built-in Timer, Programs, Music Sync, Mesh Capable(Two 4 Light Sets)
Regular price
$198.89 USD
Regular price
$239.98 USD
Sale price
$198.89 USD
Unit price
per
Sale
Sold out
2) FOUR LIGHT KITS -96 Total Watts of Colorful Light. The most complete DIY set of RGB Bluetooth landscape lights on the market. This kit includes Two 2 meter extension cords which will allow Flexibility in Placement of Spotlights and with the included water resistant transformer housing you can breath easy knowing your investment is protected.

LOTS OF COLORS - Over 16 Million colors to choose from to keep things fresh and fun, all controlled from an easy to use smartphone APP. Please Note - These lights allow you to select every possible color, yes even white, The 4 lights on each power cord must ALL be the same selected color.

BUILT IN TIMER - Timer functionality built into the transformer so its easy to set it and forget it. They will turn on and off automatically at whatever time you designate with no need for an outlet timer. Lots of features within the app such as color breathing, music dancing and circadian rhythm.

SMARTPHONE CONTROLLED - Use your Smartphone or tablet (Bluetooth device) to set timer for on and off times as well as the program or color choice for that time period. Once the program is in the Transformer, the lights are set to automatically run your choices at the set days/times and the Bluetooth device is only needed to make a change in the program. If there are multiple light sets then different programs, colors and times can be used for each light set.

TROUBLESHOOTING - If you need help with set up or troubleshooting your lights, please contact us for assistance through the Amazon Order in your account. We are a US based company that can provide exceptional tech support, customer service, and fast replacement parts! 30 day return Guarantee.
Share
View full details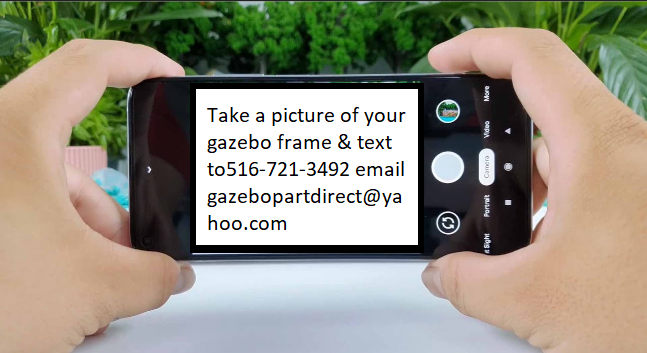 TO DETERMINE MODEL SEND PIC TO TEXT 516-721-3492 WE WILL SEND LINK TO BUY CORRECT CANOPY REPLACEMENT